Towards new relations between the museum and society – and Sami perspectives
Onsdag 11. april inviterer Norsk ICOM til en fagdag med nye perspektiver på museumsetikk som tema. Innlegg holdes av forfatterne bak boken "Mot nye relasjoner mellom museer og samfunn".  I tillegg settes fokus på samiske perspektiver.  ICOM-medlemmer fra hele Norden er invitert til fagdagen, arbeidsspråket er derfor engelsk.
Fagdagen etterfølges av konferansen "You shall be heard!?" – A conference about how (not) to share personal narratives  12. og 13. april i regi av av Vest-Agdermuseet.
Dette gir mulighet til tre dager med fokus på museenes samfunnsrolle!
Meld deg på fagdagen ved å sende en e-post til: e.breie@vestagdermuseet.no 
Pris for fagdagen er kr. 550,- som inkluderer lunch.
PROGRAM – FAGDAG NORSK ICOM
ONSDAG, 11. APRIL 2018 , Scandic Bystranda Kristiansand 
09:00 – 09:15: Registration
09:15 – 9:30 Welcome by ICOM Norway and Vest-Agdermuseet
09:30 – 10.10 Eero Ehanti, ICOM Finland: "Discussion about museum ethics in Finland"
10:10 – 10:50 Cecilia Dahlbäck, Sveden: "How to read this silence? Ethical challenges concerning stigmatized heritage sites"
10:50 – 11:30 Roy Hoiby, Ryfylke Museum, Norway: "Islam in Bible group country"
11:30 – 12:00 Panel discussion and questions
12:00 – 12:30 Lunch – Scandic Kristiansand Bystranda
12:30 – 13:10 Heidi Stenvold and Nina Planting Mølmann, Museum of Reconstruction:
"Grey Zones" and "Hearts Turned Inside Out?" Contemporary eyewitnesses and archival material as sources for historical research in the museum
13.10 – 13:50 Mari Moystad, Glomdalsmuseet:
Latjo drom " – the good journey?  The Glomdal Museum's engagement with the culture and history of the Travellers
13:50 – 14:30 Birgitta Fossum, Saemen Sijte and Board member, ICOM Norway: Post-Bååstede – what happens next? Repatriation of Sami objects
14:30 – 15:00 Coffee break
15:00 – 15:45 Panel discussion and questions  
Evening program for ICOM Nord board members:
16:00 – 17:30 ICOM Nord meeting at Scandic Bystranda Kristiansand
19:00 Dinner at Mother India
"YOU SHALL BE HEARD!?" A conference about how (not) to share personal narratives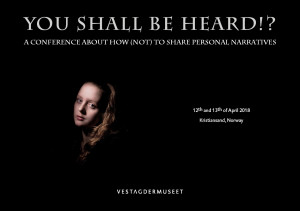 For registration, see the Conference site.
Thursday 12 April, Kilden Kristiansand
POLITICAL CHANGES IN EUROPE AND THE CONSEQUENCES FOR CULTURAL ACTORS
09:00 Registration and coffee/tea
09:30 Welcome and introduction
09:45 Taja Vovk van Gaal «Academic independence of History Museums: reality or utopia?»
10:45 Piotr Majewski «Why is the Second World War so hot a question in Poland? The case of the Museum of the Second World War in Gdansk»
11:45 Questions and discussion
12:15 Lunch
PERSONAL NARRATIVES – WHY AND HOW TO GIVE INDIVIDUALS A LOUDER VOICE
13:00 Introduction
13:15 Françoise Davoine «Whereof one cannot speak,
one cannot help showing what cannot be said»
14:15 Peder Kjøs, psychologist, known from a national TV show reflects on how sharing one fears and feelings of shame can contribute to healing prosesses and how to react in the best possible way
15:15 Coffee break
15:45 Lis-Mari Hjortfors «Narrative and cultural safety in a lulesami community – If you talk and someone listen»
16:45 Closing questions and discussion
EVENING PROGRAM
18:00 Philosophy-inspired dinner with philosopher Henrik Syse
Friday 13 April, Scandic Bystranda Kristiansand
LOCAL SOCIETIES AND DIFFICULT ISSUES
09:00 Registration and coffee/tea
09:20 Welcome and introduction
09:30 Heledd Fychan «Participation at the heart of Museums: the Museums Change Lives campaign and how it resonates globally»
10:30 Bernadette Lynch «Talking the talk… The benefits, opportunities, challenges and limitations of opening up dialogue in museums»
11:30 Questions and discussion
12:00 Lunch buffet
13:00-14:45 PARALLEL WORKSHOPS
A Heledd Fychan A workshop on participation and how museums can change lives
B Bernadette Lynch A workshop on how to open up dialogue in museums
C To be announced A workshop on interview techniques and ethics
14:45 Coffee break
15:00 Closing questions and discussion